The actress of the series NCIS, Pauley Perrette accused actor Mark Harmon of having assaulted her, and such is the trauma that she says she has nightmares. WTF?
Former NCIS star, Pauley Perrette hit fans of the show when she insinuated that she was a victim of physical aggression by actor Mark Harmon
Ok, let's go to the beginning, in case you did not know the story, Pauley Perrette – who left the series last year, in the middle of a controversy, after 15 years in the show doing the role of the eccentric goth Abby Sciuto – accused of aggression to his former partner Mark Harmon, this Friday in the networks social, and talked about what happened behind the scenes with the actor, his dog and what caused her to leave the series.
According to TMZ, Pauley took his Twitter this Friday vowing he would never go back to NCIS, saying that she was terrified of Mark for attacking her, and accuses Ndolo in front.
In a Tweet, already erased (TMZ took the capture) Perrette says:
"I'M NOT GOING TO RETURN! NEVER! (Please stop asking?) I'm terrified of Harmon and of him attacking me. I have nightmares about that. I have a new show that is SAFE AND HAPPY! They will love it! #Happyplace I love you all! "
In other Tweet, the actress continued with her download.
" Do you think I did not expect a backlash? They misunderstood me THIS happened to a member of my team and I fought like never before so that it never happened again! To protect my team! "

" And then I was physically attacked for saying NO !? And I lost my job. "
This last Tweet is for an incident that happened on the set in 2016, where Mark Harmon's dog bit a team member in the face, which left the person with 16 points. suture.
Sources familiar with the situation told TMZ that Pauley is now claiming that Mark hit her with her body (you know, when someone comes up and pushes you with her body) on the set in 2017, what she perceived as a revenge. It was said that Pauley felt that the attack was an attempt to intimidate her after the dog incident.
Sources told the website that Pauley adamantly refused that Harmon's dog was on set after the attack, and spoke with CBS. so that they would not allow it (take the dog to the set). CBS spoke with Mark Harmon to leave the dog in his trailer and if he took it out on a leash. However, after the new rule, Harmon supposedly started making fun of Perrette, who felt that Mark only took the dog out when she was around. The relationship between them was never the same again.
After that, they filmed some scenes together and the actress announced that she would not return to the serious.
TMZ says that Pauley claiming he lost his job is strange, because supposedly she renounced the series in 2018.
Mark Harmon and CBS have not commented on this.
Woow! How ugly I was never a fan of the series, the relationship between Abby and Gibbs seemed super uncomfortable to me, honestly I gave cringe, in my opinion did not look anything professional. I just got the gif of a scene that made me say, what the heck? Ok, maybe it's me.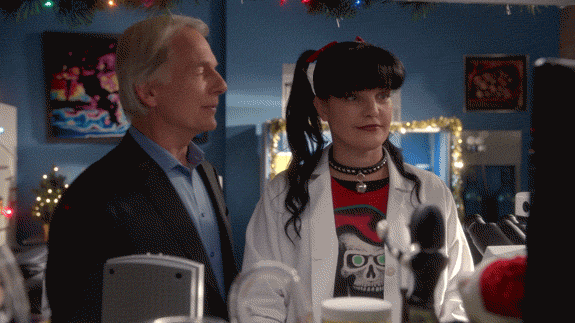 Anyways, Now Pauley Perrette accuses Mark Harmon of assaulting her, I found the dog terrible. What do Farandulistas think?