Awwww … Keanu Reeves did not know that there was an obsession with him on the Internet. Love him!
The actor of John Wick was in the premiere of Toy Story 4 – where he makes the voice of a toy called Duke Caboom who loves motorcycles and according to People, when they interviewed him, they told him that had been named the new Internet boyfriend, Keanu replied timidly:
"I've been what?"

"That's it, that's crazy" – said the actor.
Yep, Keanu, we are crazy for you! LOL!
"Well, positivism is great" – Keanu expressed.
Keanu as always praising him for something changed the subject to his recent projects like "John Wick 3" and the Netflix comedy, "Always Be My Maybe ", where he plays the role of a fictional version of himself.
Keanu Reeves – who has dominated Hollywood since the 1990s, is enjoying a resurgent online popularity. People and fans admire him for his simplicity and humility, he has seen shopping, traveling in the subway (being a gentleman and offering his position to a lady), talking to the destitute, riding on his motorcycle and of course, being respectful with all his fans.
Recently many fans praised how respectful Keanu is when he takes pictures with his fans or famous colleagues, he never seems to touch them, he just puts his hands in the air. Well, honestly, it's the best and smartest thing. There I read that it was by #MeToo, please, I do not think that's why … He poses with the fans as if he embraced them without touching them, it's respect for personal space. This is the Tweet that went viral with the photos of Keanu posing with his fans and Dolly Parton, and says Keanu does not give opportunities (you know, as if to imply that nobody will say anything bad).
Lol Keanu ain ' t taking no chances. 19 pic.twitter.com/nnfIOZKbT1

– Kemoy Lindsay (@KemziLinzi) June 9, 2019
Anyways, Keanu had no idea he was the new boyfriend from Internet. Toy Story 4 opens in theaters on June 21.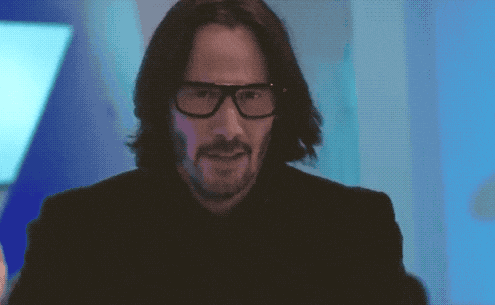 Well, excuse moi, Keanu was my boyfriend and obsession before this Internet boom, ok?