Told now! Angelina Jolie invited out Keanu Reeves yep to a date because according to Star magazine, she loves him. HA!
According to the publication, Jolie is ready to find love again after turning 44 at the beginning of this month and has her eyes on the protagonist of John Wick. Right! This has nothing to do with the news that both could star in "The Eternal." Nop. And they also did not remember that last year they "were dating!"
"Her birthday felt like a point of no return and the perfect moment to start a relationship" – said an insider to the magazine.

" She had not been so excited about a man since she met Brad. "
Well … I do not blame her. Keanu is adorable and anyone gets excited. LOL!
The tabloid says that Angelina met Keanu in 2017, when "she bought a house on the lake in the same neighborhood in Los Angeles where the actor's mother, Patricia, lives."
] "They realized that they had a lot in common, and the attraction was definitely there. Patricia would love to see Keanu finally settled after all these years, and Angelina is someone who would look good in the family. "
REALLY?
The insider continues with his story saying that Angie gets excited when she sees Keanu … Ok, well, we all get that.
" Keanu makes you feel butterflies in your stomach! After all, he is his type – extreme and a little lonely. Plus, she thinks he's wonderful. "
Yep, we totally agree. 100%
The source states that "Angelina was very nervous about asking Keanu's mom to make an appointment, so she decided to tell a mutual friend to ask the actor."
"She wants a intimate dinner in her house, and hired a chef to prepare everything with time so she and Keanu can be totally alone "- adds the source.
Sure! I guess Brad will be taking care of the Brangelinos while he goes out with Jennifer Aniston. HA!
By the way, Angelina Jolie will spend the summer in New Mexico with her children while filming a movie, the actress rep told GossipCop that she is not interested in dating.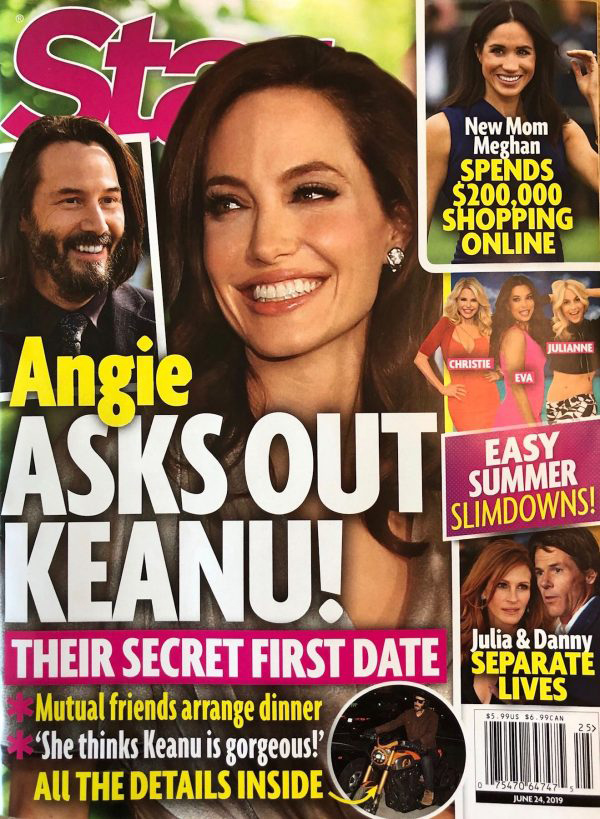 So, as the tabloids are a world apart, next week expect something like that … Angelina breaks Keanu's heart after dating him. Bahahahahahahahahaha … Or better, they run away and they get married.